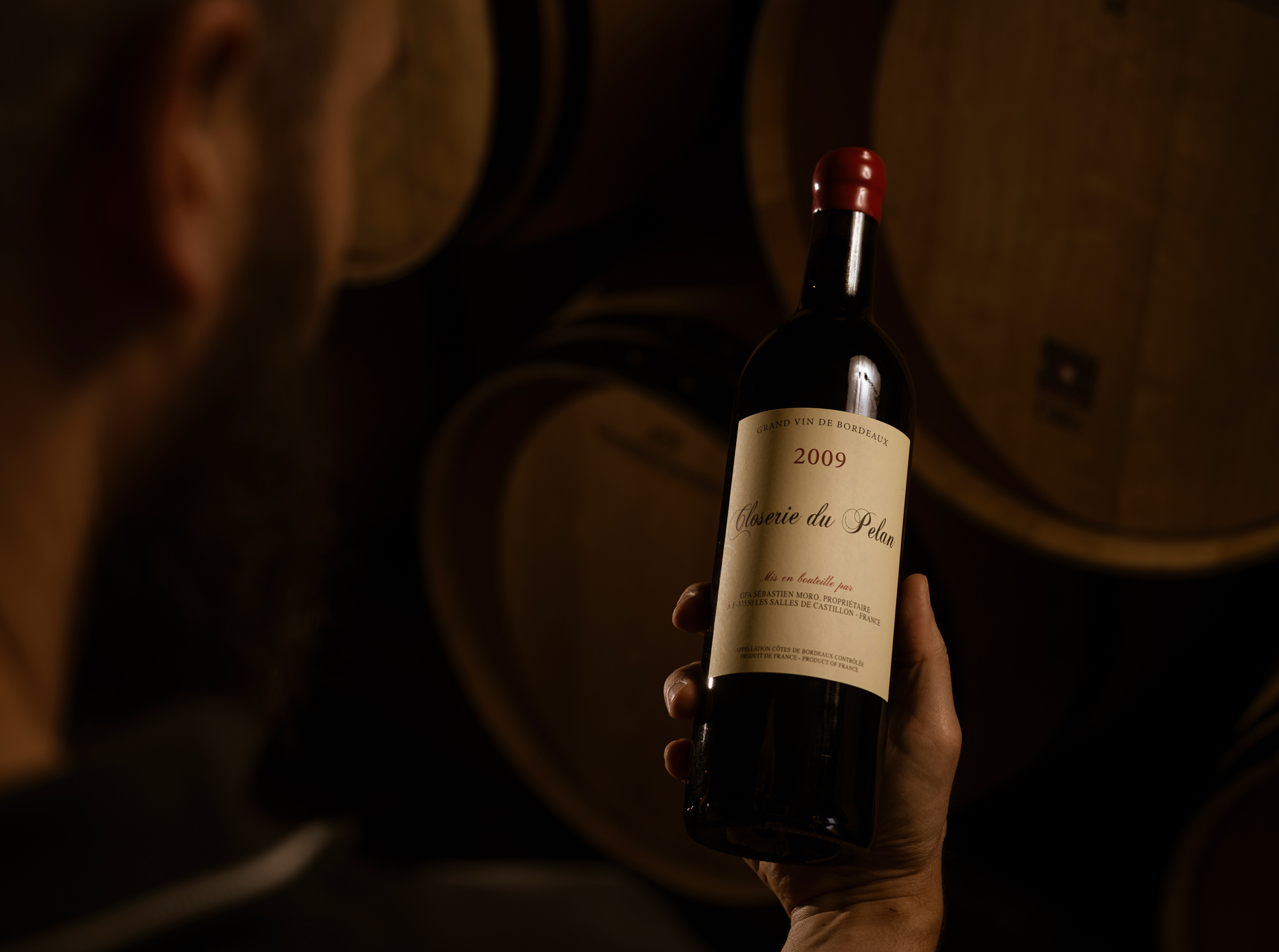 Although the fortunes of many vignerons in Bordeaux are shrinking, the Amoreau family, alongside their visionary director of operations and co-owner Harold Langlais, have expanded their footprint in their corner of the Côtes de Bordeaux over the past decade. In 2012, they acquired Closerie Saint Roc—a property less than a kilometer from Le Puy with the same Asterie limestone bedrock—and today they produce several Bordeaux of riveting beauty there, all in the manner of Le Puy's famous "Barthélémy," vinified and bottled separately according to soil type.
The family's most recent acquisition is a real doozy. Back in 1984, a local named Régis Moro left his career as a painter and returned to his roots, purchasing a property called Vieux Château Champs de Mars which straddles the Côtes de Francs and Côtes de Castillon appellations. An old friend of Jean-Pierre Amoreau, Régis similarly eschewed chemical treatments and modern gadgetry from the outset, obtaining organic certification with the 2008 vintage and biodynamic certification in 2013. While Moro's star rose gradually on the home front—he was named "Winemaker of the Year" by the French newspaper Le Point in the early 2000s—large-scale commercial success eluded him. By the late-2010s, the winery was in mild disrepair, and the vineyards, still beautifully tended, were rife with missing vines, yielding a mere 15-20 hectoliters per hectare as a result. The Amoreaus saw an opportunity to help an old friend and to produce wine from a different terroir—the Moro vineyards have more sand and silt than Le Puy, with less of a reddish cast to the soil—and they bought the property in early 2022.
While an Amoreau-produced Pelan will not be released for several years—2022 will be the inaugural vintage—the purchase package of this fixer-upper included an incredible surprise: lurking below the cellar's main floor was a host of older vintages, stored perfectly since their inception. And we're not talking about a few bottles of this and that; these are proper stocks—many hundreds of bottles of wines of real character and charm that, symptomatic of Bordeaux's troubles, simply never found a home—until today.
During our most recent visit with the team at Le Puy, we excitedly tasted through a near-unbroken vertical of Pelan vintages, from 2015 back to 1999, and the magnitude of this unexpected bounty revealed itself to us more and more with each passing bottle. While Pelan presents a bit more broad-shouldered—Moro employed traditional punch-downs, in contrast to Le Puy's distinctive "infusion" method—a deep kinship is evident between Pelan and Le Puy's flagship "Emilien" bottling. Pelan may not be quite as ethereal and seamless as Emilien, but in its vibrant fruit, its foregrounding of savory mineral elements, and its absence of flash and flab, it feels uncannily familiar; after all, the vineyards are a mere three kilometers south of Le Puy's, and the wines were birthed in a similar spirit. Here, then, is the old, true, haunting style of Bordeaux that made the region famous, yet which is so rare to encounter these days.
More on Closerie du Pelan here.