---
We were introduced to Jérome Chézeaux in the mid-1990s by Régis Forey, whose father, Jean, was amongst our very first suppliers of wine from the Côte de Nuits back in 1980. We had been looking to supplement the wines that Régis was providing to us from his various holdings in Vosne Romanée and Nuits Saint Georges. He was generous enough to refer us to this small gem of domaine which, to our surprise, encompassed holdings in some of the most prestigious vineyard sites in this southern tier of the Côte de Nuits. We started with the 1994 vintage and haven't missed a beat since.
The Chezeaux domaine was built on the foundations of an estate owned since 1930 by Julien Missery. Bernard Chezeaux acceded to the ownership of the domaine in 1971 selling most of the wines produced there to negociants during his reign. On his untimely death in 1993, his son, Jérome, took over the direction of the domaine and it was at this moment that we made Jérome's acquaintance. It was a fortuitous encounter as our collaboration has meshed perfectly with Jérome's intention to increase the amount of wine bottled at the estate.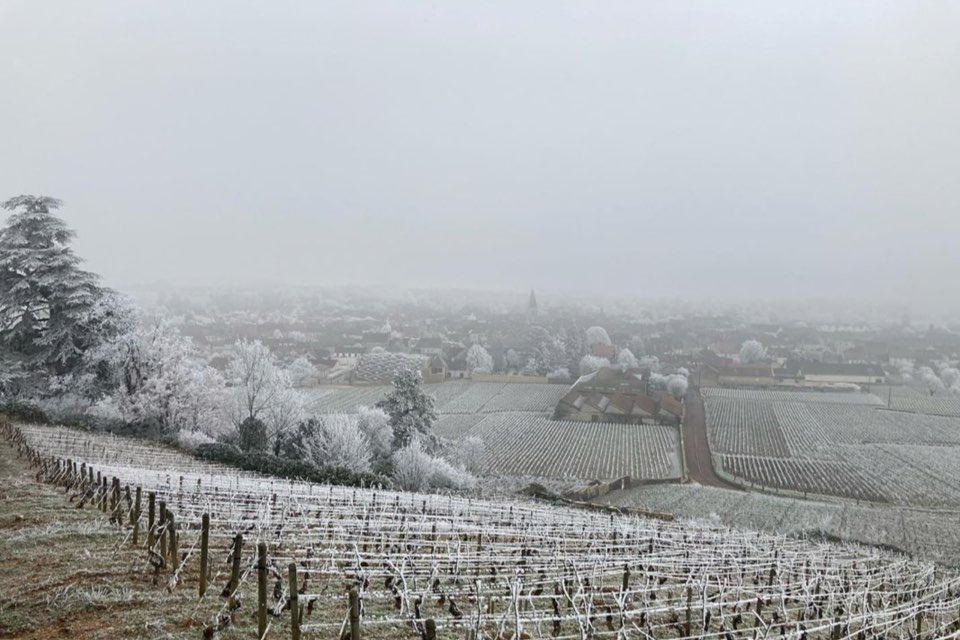 Jérome Chézeaux strictly follows the most traditional of methods in the cellar, being firmly "non-interventionist". His daughter Lise is following in his footsteps.
The estate, which is based in Prémeaux-Prissey just south of Nuits Saint Georges, owns approximately 12 hectares of vineyards, some of which were brought into play from the family holdings of Jérome's wife, Pierrette. The vineyards, impeccably tended according to the principles of "lutte raisonnée", are scattered throughout the villages of Prémeaux, Nuits Saint Georges, Vougeot and Vosne Romanée and include, as mentioned above, a series of the most elite lieu-dits in the zone.
Jérome Chézeaux strictly follows the most traditional of methods in the cellar being firmly "non-interventionist". The purity of his wines is revelatory; there is an understated majesty to every offering in the portfolio. After a manual harvest, the grapes undergo a cold maceration of 3 to 4 days and the entire cuvaison extends for approximately three weeks. During that time remontage and pigeage are practiced; the extent to which both techniques are used depends on the structure of the vintage. Indigenous yeasts are used exclusively and malolactic fermentation occurs in small oak barrels during the extended elevage. Each year between a quarter and one-third of the barrels are replaced which means that the wines are exposed at most to 30% new oak. The wines are bottled without filtration between 18 to 24 months after harvest.
Farming
Lutte Raisonnée
Treatments
No herbicide, chemical and organic fertilizer, synthetic treatments only when necessary
Ploughing
Annual ploughing to promote soil health
Soils
Limestone-clay
Vines
Planted at c. 10,000 vines/ha and trained in Guyot. Average vine age 35 years.
Yields
Controlled through severe winter pruning and debudding; yields average 35-40 hl/ha.
Harvest
Entirely manual, usually in late September
PURCHASING
Entirely estate fruit
Fermentation
Whites ferment spontaneously in barrel and stainless-steel tanks, reds ferment in stainless-steel tanks after destemming and a 3-4 day cold soak. Cuvaison lasts 2-3 weeks.
Extraction
Red wines see both punchdowns and pumpovers during fermentation, depending on the nature of the vintage.
Chaptalization
Chaptalization when necessary
Pressing
Whole-cluster, direct pneumatic pressing for white wines, pneumatic pressing for red wines
Malolactic Fermentation
Spontaneous, in barrel in the spring
Élevage
Aligoté is raised in stainless-steel tanks and Bourgogne blanc is raised in both tank and barrel. Other wines spend 18-24 months in barrel, with c. 10% new oak for village wines and c. 30% new oak for 1er and grand cru wines.
LEeS
All wines rest on their fine lees until assemblage prior to bottling
FINING & FILTRATION
All wines are unfined and unfiltered
SULFUR
Applied at harvest, racking, and bottling; c. 20 mg/l free sulfur