Mountainous, Magical and Microscopic: A New Trio from Nadir Cuneaz in the Valle d'Aosta
We at Rosenthal Wine Merchant have always relished working with small producers, and we have grown our portfolio over the years by continuing to forge alliances with people who work their land on an intimate, human scale. Many of our 140 winegrowers work with fewer than ten hectares, and although it is typically impossible to keep these wines in stock year-round, we love the fact that each new vintage is an occasion to look forward to—something to be enjoyed by those fortunate few in the know.
Even among our family of modestly sized growers, however, Nadir Cuneaz in the Valle d'Aosta stands apart. With less than a single hectare's worth of family holdings, Nadir qualifies as our very smallest producer in Italy, and the handful of cases we buy from him each year are true homemade wines in every sense of the word. His vineyard situation is not uncommon in the Valle d'Aosta, our beloved Alpine enclave whose total production is the lowest by far among all Italian winegrowing regions. It's no surprise that co-operatives still predominate here, given the scant amount of land most families own; it's simply easier to sell fruit to the local co-op than to go through all the painstaking work required to bottle such a tiny amount of wine.
However, like his friend Danilo Thomain (who introduced us to Nadir some years back), Cuneaz would rather see his viticultural efforts through to the end—to create something to put his name on. And, like Danilo, he does this in a small room in his modest home. To even call his operation a "winery" is to stretch that term past its breaking point, but there's plenty of room for the few thousand bottles Nadir produces each year. And, little by little, he is enlarging his footprint, buying minuscule parcels here and there and planting indigenous varieties.
Nadir has only been commercializing his wines since 2009, but he has made immense progress since his earliest days. While he always farmed his vineyards without the use of chemical herbicides and pesticides, he has made notable adjustments in his cellar work over the years—adopting spontaneous fermentations, refining his oak sources and barrel regimen, experimenting with various vessel types, and abandoning his earlier occasional employment of passito in order to enhance purity of expression. This incoming round of new releases represents his best work to date.
2019 "Badebec" Rosso Vallée d'Aoste : According to local lore, Badebec is a monster of fearsome stature who roams the vineyards after sundown. (Life in these Alpine extremes involves constantly confronting the ruthlessness of the elements.) Composed of 90% Petit Rouge and 10% Fumin and Vien de Nus, "Badebec" comes from the family's oldest holdings around the towns of Gressan and Jovencan, with own-rooted vines up to 100 years of age. These towns flank the south bank of the Dora Baltea river which bisects the region, and their north-facing vineyards make ripening a greater challenge here than in the vineyards on the opposite bank; however, as in many regions, climate change has helped these less favorably exposed slopes produce ripe fruit more dependably and consistently. Nadir ages "Badebec" in used French-oak barrels of varying sizes for one year, bottling it unfiltered with a modest amount of added sulfur. Lovers of tension, scintillating acidity, and livewire mineral intensity will find much to appreciate here, but these tangy red fruits deliver plenty of volume as well, and one feels the age of the vines in an intense expression of sappiness.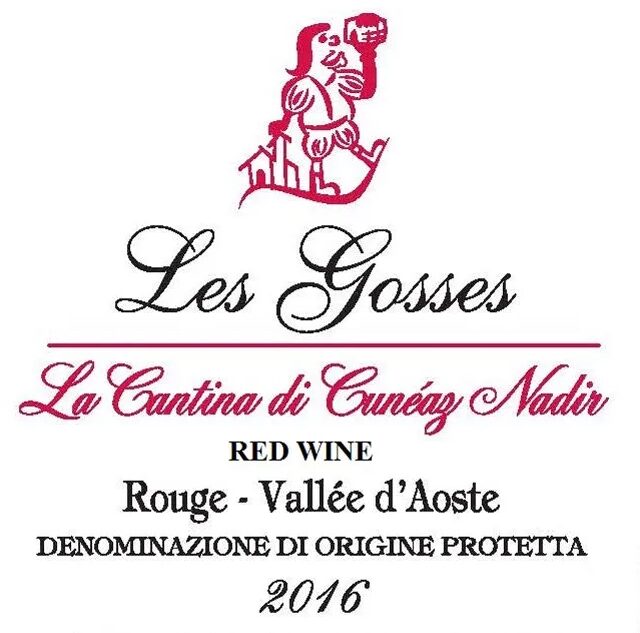 2020 "Les Gosses" Rosso Vallée d'Aoste: The only one of Cuneaz's wines not named for a local monster, "Les Gosses" derives from a French term for "little children" (monsters in their own right, to be sure!)—of which Nadir has three. Coincidentally, this wine contains three local varieties: Vien de Nus (which comprises the majority), Petit Rouge, and the little-seen Vuillermin—a parent of Fumin. In contrast to the "Badebec" above, "Les Gosses" comes entirely from south-facing vineyards: Badeun in Chambave and Creta Platta (a newer acquisition for Nadir), both of which are more sun-blessed and lower on the slope than those sites which comprise "Badebec." Made entirely in steel, this is a classic Vallée d'Aoste lip-smacker, bursting with juicy black cherries and crunchy plums. With electrifying acidity and an edge of woodsmoke, this is perhaps the most consistently delicious and complete wine Nadir produces.
2019 "Vin des Géants" Vallée d'Aoste: "Vin des Géants" ("Wine of the Giants," after François Rabelais) is produced in truly minuscule quantities and bottled in magnum only—around 200 bottles per vintage. Hailing from the vineyard Envers on the cooler-exposed south bank of the Dora Baltea, it comprises one-third each Neyret, Crovassa, and Petit Rouge, with vines averaging 50 years of age. Nadir employs a submerged-cap fermentation in a small terracotta jar for around 60 days, until malolactic fermentation has completed, and the wine spends a year in a single used 300-liter barrel before bottling. "Vin des Géants" is both brooding and energetic, its deep black fruits evoking the depths of the mountain forests while its bristling acidity contributes remarkable liveliness. Nadir's lengthy but hands-off style of fermentation manifests in a highly concentrated yet silky texture, and the fruit is tight-grained and elongated rather than round and blowsy.